Rongguan Company Was Recognized As The Invisible Champion Cultivation Enterprise Of Foshan Manufacturing Industry
07-01-2022
In order to further boost the confidence of enterprise development, set a benchmark, and accelerate the promotion of Foshan manufacturing from large to strong. A few days ago, Foshan held a "specialized, special new" and "invisible champion" enterprise symposium. For the first time, it released the list of 147 Foshan manufacturing "invisible champion" enterprises and the list of 326 "invisible champion" cultivation enterprises, and released the "2020 Foshan The City's Hidden Champion Enterprise Development Report. Foshan Rongguan Glass Building Materials Co., Ltd. has been named the 2020 Foshan Manufacturing Hidden Champion Cultivation Enterprise by virtue of its excellent product quality and R&D capabilities.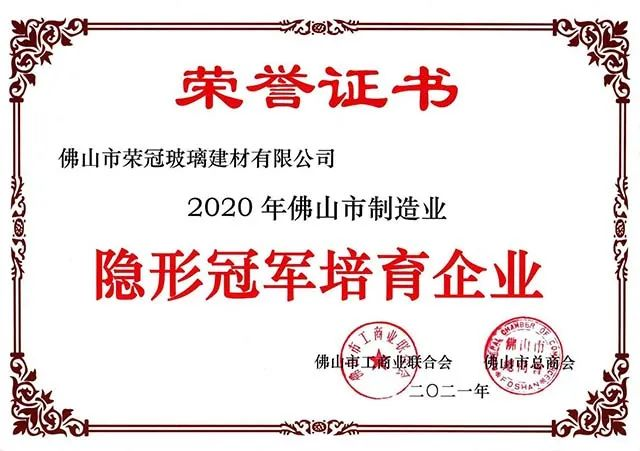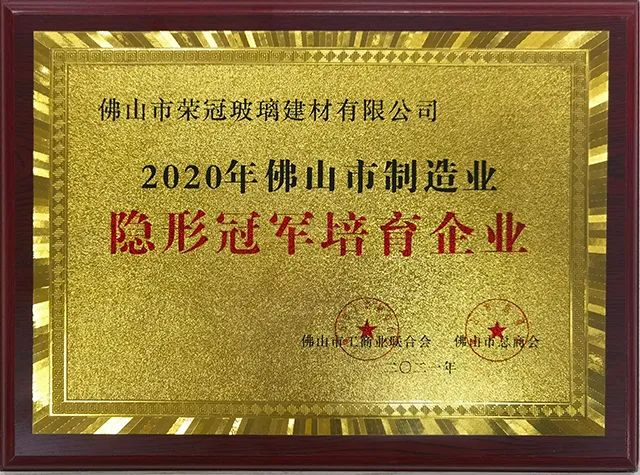 The so-called "hidden champion" enterprise refers to a company that has been committed to a certain field of technology and products for a long time and has a unique competitive strategy; it has a strong dominant position in its segmented industry and has a high market share. The honor of Rongguan as the "Foshan Manufacturing Hidden Champion Cultivation Enterprise" this time fully proves that Rongguan's brand strength is deeply recognized by the government and the industry.
Rongguan Building Materials has always been unremitting, promoting industrial progress through product innovation, and has obtained more than 20 national invention patents. It is a provincial-level enterprise technology center. From manufacturing to "intelligent manufacturing", Rongguan has truly achieved the "going hand in hand" of product quality and technical level. This is also one of the hard power performances that Rongguan can successfully be selected as the "Invisible Champion Cultivation Enterprise".
In the future, Rongguan will boost corporate development confidence, assume the responsibility of cultivating enterprises as the hidden champion of Foshan's manufacturing industry, enhance innovation competitiveness, and create industry quality benchmarks.