Good News | Rongguan Company was awarded the certificate of "Guangdong High-tech Enterprise"!
28-04-2022
Recently, Foshan Rongguan Glass Building Materials Co., Ltd. received the "High-tech Enterprise Certificate" jointly issued by the Guangdong Provincial Department of Science and Technology, the Guangdong Provincial Department of Finance, and the Guangdong Provincial Taxation Bureau of the State Administration of Taxation.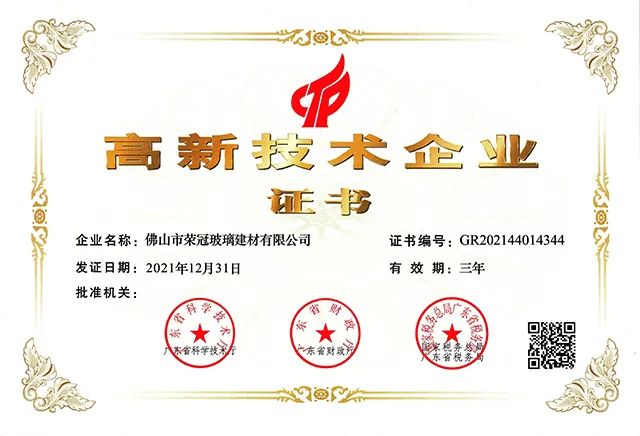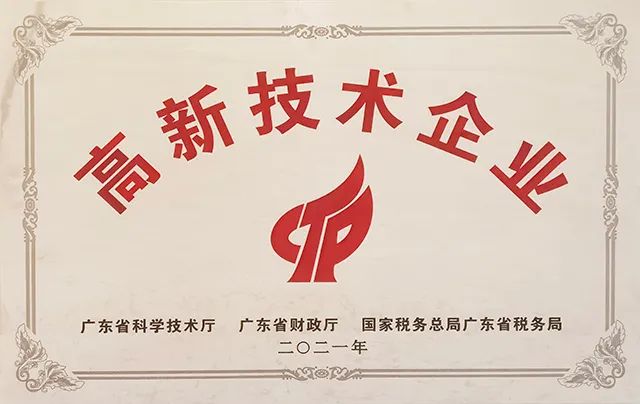 It is reported that the national high-tech enterprise certification is guided and managed by the Ministry of Science and Technology, the Ministry of Finance, and the State Administration of Taxation. The assessment score is currently the most authoritative assessment of an enterprise's comprehensive scientific and technological strength in China.
High-tech enterprises are an important carrier to promote the high-quality development of the industry, and an important support for the in-depth implementation of the innovation-driven development strategy. The successful passing of the certification this time is the recognition of Rongguan's high-tech and R&D capabilities by the country, customers and partners, and it is also an encouragement and spur to Rongguan's future development.
Open the flower of science and technology, and bear the fruit of industry. Rongguan Company will demand itself at a higher level, continue to promote the process of independent innovation and independent research and development, cultivate outstanding technical personnel, improve the management level of scientific and technological research and development of the enterprise, further enhance the core competitiveness of the enterprise, and enable the enterprise to achieve higher quality develop.